Wolverine Scratch Brushes
Sponsored Links
I was inspired by the new Wolverine movie when I made this brush. This Photoshop CS4 brush can be use to make three scratch marks. Just like it was slashed with Wolverine claws. I made this brush big enough so it will fit your photos. You can change their size of course.

To make like this one, you have to actually delete the layer. You can do this by make a selection on the center of each brushes, and then press Delete key. If you want to add some layer style to the stroked brush, use a separate layer.
So the layers composition are:
- stroked brush (can be added some layer style)
- the photo's being scratch
- background layer (if you want to change the background layer)
Brush sample 2: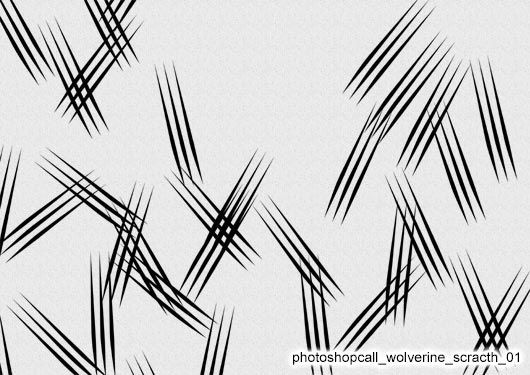 This is a sample when stroked with some brush panel adjustments. I have include a brush with those adjustment value as example.
Brush name: wolverine_scracth_01.abr
Compatibility: Photoshop 7.0 upto CS4
Number of brush: 5 images
File size: 131 Kb (zip)
Download here
Tags: Abstract, Brushes, Download, Photoshop CS4

You can
leave a response
, or
trackback
from your own site.